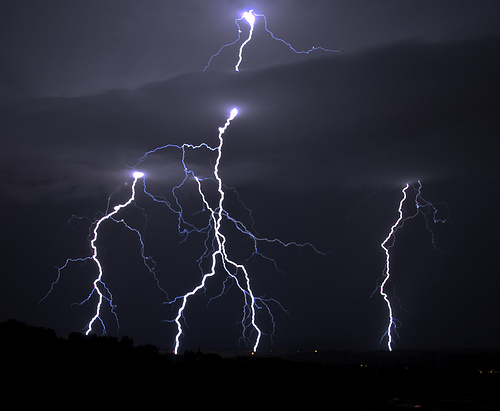 In other parts of the country, lightning isn't wide concern – but here in the Miami Florida area, lightning storms are an almost-daily occurrence that bring with them safety issues and several different types of property damage.
Today, we'll look at ways that lightning can damage your house, property and belongings and what you should do if you've suffered property damage in a lightning storm.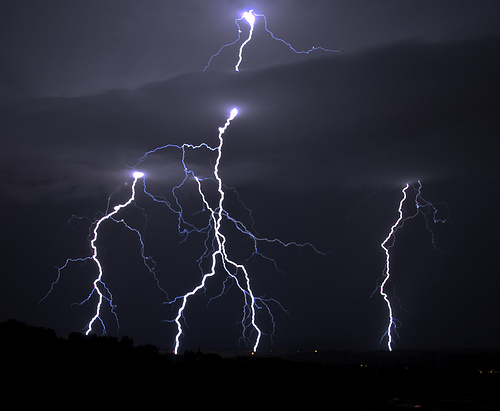 The Weather Channel has published a series of tips for staying safe in when lightning strikes. Here are their recommendations on keeping your property safe:
Lightning Safety Tips for Inside your Home
A house or other substantial building offers the best protection from lightning. In assessing the safety provided by a particular structure, it is more important to consider what happens if the structure gets struck by lightning, rather than whether the structure will be hit by lightning. For a shelter to provide protection from lightning, it must contain a mechanism for conducting the electrical current from the point of contact to the ground. These mechanisms may be on the outside of the structure, may be contained within the walls of the structure, or may be a combination of the two. On the outside, lightning can travel along the outer shell of the building or may follow metal gutters and downspouts to the ground. Inside a structure, lightning can follow conductors such as the electrical wiring, plumbing, and telephone lines to the ground.
Avoid Unsafe Shelters!
Unless specifically designed to be lightning safe, small structures do little, if anything, to protect occupants from lightning. Many small open shelters on athletic fields, golf courses, parks, roadside picnic areas, schoolyards and elsewhere are designed to protect people from rain and sun, but not lightning. A shelter that does not contain plumbing or wiring throughout, or some other mechanism for grounding from the roof to ground is not safe. Small wooden, vinyl, or metal sheds offer little or no protection from lightning and should be avoided during thunderstorms.
How Lightning Enters a House or Building
There are three main ways lightning enters homes and buildings: (1) a direct strike, (2) through wires or pipes that extend outside the structure, and (3) through the ground. Regardless of the method of entrance, once in a structure, the lightning can travel through the electrical, phone, plumbing, and radio/television reception systems. Lightning can also travel through any metal wires or bars in concrete walls or flooring.
Protect Your Personal Property
Lightning also causes significant damage to personal property each year. In addition to direct strikes, lightning generates electrical surges that can damage electronic equipment some distance from the actual strike. Typical surge protectors will NOT protect equipment from a lightning strike. To the extent possible, unplug any appliances or electronic equipment from all conductors well before a thunderstorm threatens. This includes not only the electrical system, but also the reception system. If you plan to be away from your home when thunderstorms are possible, be sure to unplug unneeded equipment before you leave.
Unexpected Types of Property Damage Lightning Can Cause
Though electrical burns to roofs, trees and tall structures are common types of property damage from a lightning strike, the electrical currents can act in very unpredictable ways causing damage you might not expect.
LightningSafety.com published a series of photos illustrating damage caused by lightning, here are a few unexpected examples:
Exploding Concrete
Lightning rocked this structure down to its foundation. The concrete exploded when the electrical current flowed through:
Underground Damage
A lightning bolt surged through a conductive underground pipe causing damage to the pipe and the landscape above it: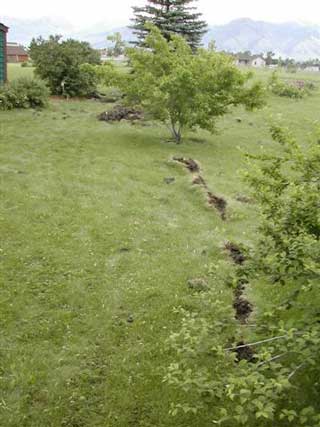 Major Fire in a Lightning "Proof" Home
This mansion had been built with materials to sustain a lightning strike, but in "perfect storm" conditions, lightning hit the home and started a massive fire: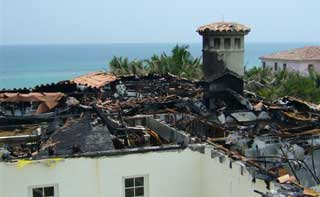 If Your Property Has Been Hit By Lighting…
We encourage you to call a licensed public adjuster. If you are in the Miami, FL area, we can help you assess the damage caused by lightning, look for unexpected damage that you or a contractor might otherwise miss and help you file an insurance claim that will cover the cost of properly rebuilding or replacing the property damaged by lightning.
Call us at 305-898-3626 and we'll come out to take a look at the damage (for free, of course) and speak with you about your options.
###
Lightning Photo Credit: http://www.flickr.com/photos/snowpeak/3762193048/
---
Get the Most from Your Claim
Q: Why work with a Public Adjuster?  A: The insurance companies have experts on their side – so should you. A survey by the State of Florida found that there was a 747 percent increase when an adjuster was hired at the start of the claims process.
Q: What does a Public Adjuster do?  A: ALL-Lines Insurance Adjusters will identify, quantify, and establish the full extent of loss to your home or commercial property from wind, fire or water with your insurance company. We will package and present the claim to achieve a favorable recovery.
Q: How much does it cost me?  A: There are no upfront costs. ALL-Lines only collects when you get paid.
Q: When should I call a Public Adjuster?  A: Now. The sooner we get involved, the better your chances are for recovering more from your insurance claim.
Get started now by calling us at 305-898-3626 to discuss your claim.  Or, tell us about it using this form and we'll do some research and get back to you:
Tell Us About Your Claim