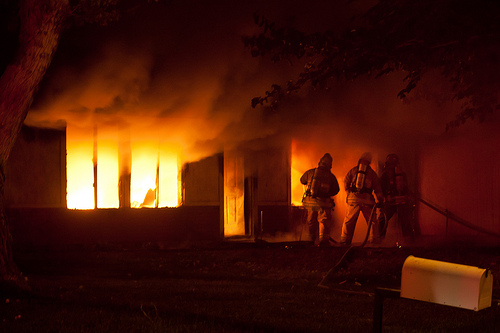 If your Miami home or property has been damaged by flames and smoke, you know that fire damage can be extremely devastating. Some items and structures are completely burned to ash, while many of the items that remain are covered in black soot, soaking  wet and smell like smoke.
As today's guest author shares, the clean up after a fire should be left to the professionals:
Tips To Help You Choose the Right Fire Damage Restoration Services
Accidents can happen anytime. This pertains even to your home or office. Dealing with fire damage can be one of the most trying times of your life. Fire damage restoration is a very challenging job for which you will need professional help. In addition to the fire damage, water used by the firemen to get the fire under control can also cause a lot of damage to your property, and again water damage restoration is also an equally, if not more, challenging.
Advantages of taking professional help for fire damage restoration & water damage restoration services:
Choosing the right professional contractor to do the restoration job is very important. After a fire accident, dealing with ourselves emotionally itself is quite a task. Therefore, you should choose a company that will provide you with integrated services, like – cleaning, reconstruction, refurbishment, redecoration, insurance coordination and debris clearing.
Professionals help you in restoring your property back to what it was like before, may be even better than before and as early as possible.
Timely assessment of the damage caused and quickly attending to complete the restoration is very important; this is so because fire, smoke and soot leave behind acidic fumes, odor and stains that can cause irreparable damage to your assets after a while.
You might have conducted a self assessment of the site to analyse the damage caused and may have thought the damage occurred is a total loss and is beyond repair. However, that might not be the case since only a professional can tell you the intensity of the damage. An expert can help you in getting an estimate of the valuation, cost and time expected to fully restore your building and other assets.
Professionals work in conjunction with your insurance company to make sure their work complies with the terms of your insurance agreement and also ensure that these terms are best utilised to your advantage.
Fire brigades leave behind soaking wet properties and water damage restoration is the first step taken care of by professionals. Instant removal of any standing water is done primarily. Then complete drying of the whole property along with its walls and wood is looked into.
Professionals also help you in restoring your furniture, carpets, curtains, electronics and other valuables by removing moisture from them. They perform these tasks with high pressure and high performing machines.
To ensure the stability of your property, complete dehumidification of the structure of the entire building, including bricks, blocks, beams and timber is necessary and performed.
Depending on the nature of the fire damage, there can be different types of residues which are left behind. The professional damage restoration service neutralises the residues to eliminate the threats of further damage. They also take care to ensure that no harmful debris are strewn or left around the accident site.
Before giving hope, always rely on a good damage restoration service when there is accidental fire or water damage to your property.
— Creeper Moody, Ideal Group
###
These are great tips, Creeper! We encourage anyone with fire damage to seek the help of a professional, licensed public adjuster. We're able to come in, assess the damage and help you file an insurance claim that will cover the cost of replacing your items professionally restoring your property.
About the Author: Ideal Group are emergency response, disaster recovery, Fire Damage Restoration, environmental management,Water Damage Restoration, and property cleaning and repair professionals, serving, amongst others the Insurance and construction industries.
Photo Credit: http://www.flickr.com/photos/adambelles/5044281763/