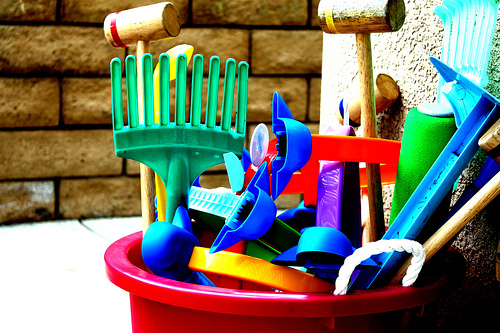 When you hear a storm is about to hit, you rush around to prepare your home and your family. But, as today's guest writer reminds us, having a plan and continually keeping your yard and your home neat can help prevent even an unexpected storm from causing extensive property damage:
Trim the Fat!
During storm season it is important to keep your house's surrounding neat and trim to try and avoid property damage. This will greatly decrease your chances of damage that can be caused by storms, wind, fire, floor, theft and vandalism.
Where to start? Start with the easy stuff – ceramic pots, garden tools that were left lying around, kids toys, etc. These items can be picked up by wind gusts and cause damage to your home making it more susceptible to vandalism and theft.
Yard debris is another major culprit of causing property damage. Keep your trees trimmed short and trimmings stored away properly to help minimize destruction.
Lastly, have a plan. It is important to be aware of things that need to be done prior to a storm. Have a list of the important things you need to do to secure your property and keep it with your storm survival kit.
Best of luck to everyone this storm season!
— Rolando Moreno, Vice President, FEMBi Mortgage Bankers
###
Following Rolando's tips will go a long way in minimizing property damage during a storm.
If you have experienced property damage from a storm, a hurricane, high winds or even lightning, give us a call. As licensed Public Adjusters in the Miami area, we can help you file an insurance claim so that you can repair the damage and get back to normal as soon as possible.
About the Author:  Rolando Moreno, Vice President at First Equity Mortgage Bankers Inc (FEMBi), has survived his fair share of catastrophic storms, including Hurricane Andrew who hit Miami back in 1992. Having spent his whole life living in South FL he is very experienced with what to expect and how to prepare for these events.
Rolando has worked in the mortgage banking industry for the past 15 years and has seen it all. He is an expert in property management and financing.
Photo Credit: http://www.flickr.com/photos/brendan-c/5331051745/