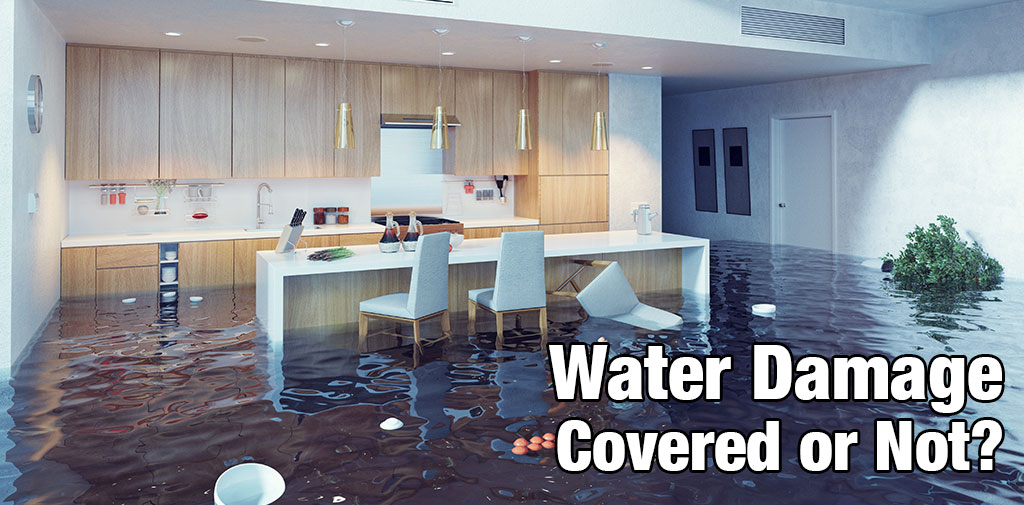 For many homeowners, the fear of discovering water damage somewhere in their home is among their top concerns. This is because water damage can happen quickly, and can be expensive and challenging to fix.
Most homeowners assume that because water damage is commonplace, that it is covered as part of their homeowner's insurance coverage. However, there are different kinds of water damage, which may or may not be included, depending on your insurance policy. Below is an overview of different kinds of water damage, and what you can possibly expect from your insurance company.
What's Not Covered?
Homeowners insurance does not cover all types of water damage.
Damage from unresolved maintenance issues:
While your insurance will probably help cover the cost of replacing or repairing a damaged floor if your dishwasher suddenly goes on the fritz, coverage generally will not kick in if the damage results from an unresolved maintenance issue, such as continuous leaking near a faucet or other plumbing fixture.
Replacing or repairing the source of the water damage:
Most insurance policies will not cover the source of the water damage. So while your policy may cover the cost of tearing out and replacing that damaged floor, you shouldn't expect it to cover the cost of replacing your broken dishwasher or washing machine.
Water backup from an outside sewer or drain:
You also will not typically be covered by a traditional homeowners policy if water backs into your home through an outside sewer or drain.
Flood:
No type of flood damage, no matter the source of the water, is covered by standard homeowners policies. Flooding, for example, can occur from storms, over-saturated ground, overflowing or surging bodies of water such as rivers, ponds, lakes and oceans, You can, however, purchase Flood insurance through the National Flood Insurance Program.
Sewer Line Backups
In South Florida, homes built prior to 1978 had cast iron sanitary lines which are well past their life expectancy and is the direct cause for the majority of sanitary problems experienced by Homeowners in South Florida. These are very costly repairs and typically require trenching the interior of your home to remove and replace the broken sanitary lines. These repairs create a domino effect, damaging the interior of your home, i.e, flooring, baseboards, Bathrooms, drywall/paint and cabinetry which may or may not be covered. Most insurance companies are reducing coverage's and raising premiums to insulate themselves from this type of claim. There is criteria that must be met before coverage is extended. If your home has encountered water damage, we highly recommend contacting a reputable Public Adjusting firm to review policy coverage criteria and make a coverage determination prior to initiating your claim. What you don't know may hurt you!
---
Get the Most from Your Claim
Q: Why work with a Public Adjuster?  A: The insurance companies have experts on their side – so should you. A survey by the State of Florida found that there was a 747 percent increase when an adjuster was hired at the start of the claims process.
Q: What does a Public Adjuster do?  A: ALL-Lines Insurance Adjusters will identify, quantify, and establish the full extent of loss to your home or commercial property from wind, fire or water with your insurance company. We will package and present the claim to achieve a favorable recovery.
Q: How much does it cost me?  A: There are no upfront costs. ALL-Lines only collects when you get paid.
Q: When should I call a Public Adjuster?  A: Now. The sooner we get involved, the better your chances are for recovering more from your insurance claim.
Get started now by calling us at 305-898-3626 to discuss your claim.  Or, tell us about it using this form and we'll do some research and get back to you:
Tell Us About Your Claim