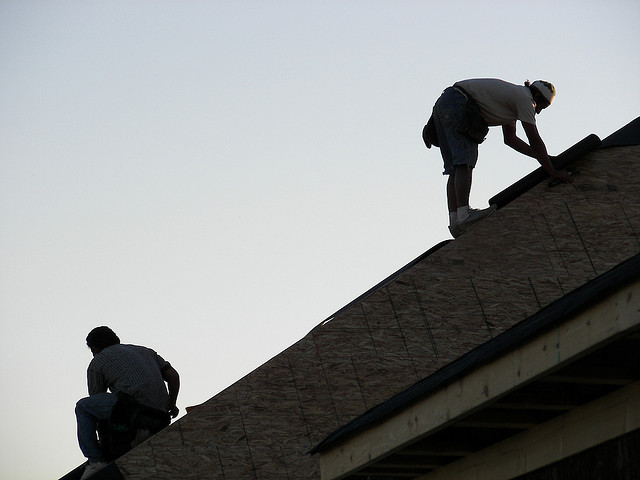 The roof on your home or commercial building is a prime target for wind damage and wear and tear from years of exposure to the elements. As today's guest blogger advices, determining the health of your roof and the extent of roof damage you have is an important first step in fixing a damaged roof.
See what he suggests for finding the right contractor to repair or replace your damaged roof:
Wind Damage
Shingled roofs are no match for the high winds of tornadoes and hurricanes. Occasionally, minor storms carry wind gusts with sufficient force and direction to lift roof shingles or damage a roof with flying debris.
Exposure
All roofing materials deteriorate over time with exposure to wind, rain, snow, and other natural occurrences and weather conditions. The amount of deterioration is dependent on the severity of the weather conditions.
Poor Maintenance
Many roofs have minor defects or experience minor deterioration. The failure to detect and correct these conditions in their early stages can lead to more serious roof damage over time.
Improper Installation of Roofing Materials
The proper installation of roofing materials will minimize the occurrences of roof damage. Even the lowest grade of roofing materials will supply adequate protection against roof leaks, water penetration, and wind damage if applied properly.
Emergency Roof Repairs
If you need roof shingle repair or any other kind of roof damage repair, you should hire a licensed and insured roofing contractor or general contractor. If you have to perform temporary roof shingle repair before the professionals arrive be very careful. Serious injury can occur if someone falls off a roof or ladder.
Choosing a Roofing Contractor
Here are some things that you should keep in mind when selecting a roofing contractor:
Define the specific scope of roof repairs to be done
Ask family, friends and your local roofing supply house for recommendations and references.
Get at least 3 written quotes. 
Check with your state or the Better Business Bureau for complaints.
Make sure the contractor is licensed.
Make sure the contractor is insured for personal liability, property damage, and worker's compensation.
Have the roofing contractor acquire the required permits from the city building inspector.
Do not pay for the job up-front.
Withhold final payment until the job is complete and has been inspected and approved.
Get a written contract stating the total price of the job, the schedule of payments, scope of work to be done, what materials that will be used, and the time frame for completion
If you pay by credit card, you may be able to dispute the payment if the job is unsatisfactory.
— Eliot Hobbs
###
Great tips, Elliot – thanks!
We agree that finding a trusted contractor is a big part of getting the job done and done right. As public adjusters, we've seen many roofing companies in the Miami area and can help match you with one that specializes in the type of roof and the type of roof damage you're facing. Plus, we can be a great "second opinion" on the extent of the damage to your roof, helping you determine which contractors are fairly bidding on your job.
About the Author: Eliot Hobbs is a home builder, real estate investor, real estate agent. More information can be found at http://www.buyforeclosed.com/roof.htm
Photo Credit: http://www.flickr.com/photos/cdharrison/123822896/